Online Booking
Best Price Guaranteed
CHARMING GALA HOTEL RICCIONE
3-star hotel in the heart of Riccione
Boutique Hotel in Riccione where care is taken to the smallest detail.
The atmosphere is cosy and welcoming, with an added touch of class in the choice of materials.
All rooms have all traditional amenities plus a Wi-Fi Internet connection for your work sessions.

THE MOST BEAUTIFUL LOCATION
A few steps from the beach and from the town centre of Riccione Ideal for holidays dedicated to relaxation and shopping.

SPOTLESS CLEAN ROOMS
The sweet scents that will welcome you as you step into your room, is the beginning of the magic.

QUALITY BREAKFAST
Hearty, genuine and Italian style: our breakfast is designed to give you the right energy.

FRIENDLY STAFF
Professional impeccable concierge service: ideal for unforgettable holidays.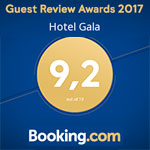 "

David

The property was lovely so well maintained and immaculately clean.
The best part was the staff who were all so helpful and charming "

− recensito il 29/09/2019
"

Louise

Great Location, close to beach, the train station is a 2 min walk, very close to shopping, and very quiet & restful area.
The room was very clean, good breakfast, lovely friendly staff!
I had a very enjoyable stay there.

"

− -recensito il 05/08/2019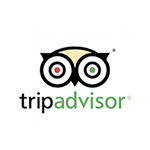 "

Louise

Great Location, close to beach, the train station is a 2 min walk, very close to shopping, and very quiet & restful area.
The room was very clean, good breakfast, lovely friendly staff!
I had a very enjoyable stay there.
"

− recensito il 05/08/2019
"

Sue

We spent 4 nights in Riccione at the Gala Hotel.
The first impression was, it's really close to the station and so pretty.
The outside of the hotel is as immaculate as the inside
and surrounded by flowers, in s nice suite street.
Our room had a lovely little balcony where
we shared a wine Two before going out for dinner.
The whole hotel is spotlessly clean and very comfortable,
breakfast is continental with a good selection of cereals,
fruit and pastries.
Luigi and his team were charming and very welcoming.
The Gala is two minutes straight down the road from the station
and the Main Street where there are lots of bars and restaurants,
five minutes from the beach and the lovely promenade
where you can walk or cycle for miles (bike hire just around the corner).
There is also a beach bar and sun bed/brolly booking related to the hotel on the beach.
For sure one of the best places to stay in Riccione."

− recensito il 10/06/2019